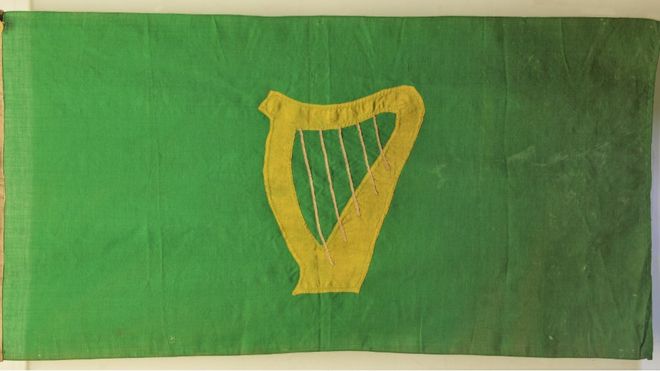 Vexillology
The Green Harp Flag, simply a depiction of a golden harp on a green background was notably used by Wolf Tonne and the United Irishmen during the Irish Rebellion of 1798 and later in the Fenian Rising of 1867 by the Irish Republican Brotherhood and the Fenian Brotherhood. Alternatively, the Irish Harp can be found on the British royal standard on a blue background representing Northern Ireland. The Green Harp flag predates the partition of the island of Ireland and, as a result, the Irish Harp transcends the modern, partitioned borders and represents the island as a whole.
1916
The Green Harp Flag flew in over Liberty Hall in Dublin during the Easter Rising. Liberty Hall, prior to the rising, served as the headquarters for both the James Connolly-led Transport and General Worker's Union and the Irish Citizen Army. Soldiers that were actually going to take part in the rising began at Liberty Hall on the River Liffey where they then marched to the General Post Office. Prior to 1916, Liberty Hall was a hotbed for radical political movements and even played parts in the Dublin Lockout. Even the Proclamation of the Irish Republic was printed in Liberty Hall under the Green Harp Flag. Liberty Hall also served as a munitions factory where bombs and other weaponry was manufactured. The video below addresses other roles Liberty Hall played up to and during the 1916 Rising:
Modern Day
The Green Harp Flag, has mostly retained a neutral positioning in terms of the ideology behind the flag. Despite being used in front of such a radical meeting
place like Liberty Hall, the Green Harp Flag and its focal point, a golden harp, are still used to represent Ireland as a whole. Harps can be seen on all types of Irish-focused products  from Guinness beer's logo to stamps to the Irish Republic's Coat of Arms to souvenirs.  Harps can also be seen representing Northern Ireland on things like the Coat of Arms of Northern Ireland and the Royal Irish Constabulary, although both are adorned with crowns over top the harps.
Also, the Green Harp Flag that flew over Liberty Hall was originally taken by an Irish soldier in the British Army following shelling of Liberty Hall in 1916. The flag eventually found its way to the Inniskillings Museum in Ireland. 100 years later, the flag has been loaned back to a modern Liberty Hall to put on display and commemorate the Easter Rising. Somehow, the flag that flew over the most radical locations of the Easter Rising is the least controversial in a partitioned Ireland. Perhaps, the harp is not so closely associated with republicanism and James Connolly is because the Green Harp Flag already had an established background and ideas it communicated. The Green Harp Flag was already legitimate, unlike the other flags of the rising whose ideologies were validated by violent revolt.
See Also:
Notable Flags involved with the 1916 Rising