Of course the issue with being a celebrity in modern times is the immense scrutiny that you are under.  Even in the late eighties and early nineties the press and paparazzi were becoming more and more willing to do anything and go anywhere to snap a picture that could ruin someone's career.  Couple that with the pressure of writing and creating music, plus having the on-the-road life of a rock star, and you can see how one may lose their head in the music business.  
Unfortunately Shane MacGowan is an example of that.  Even before he was a famous musician, MacGowan had a history with drug use having done a stint in rehab at the ripe age of 17.  MacGowan was mostly a drinker though, at first it helped him with his writing but eventually it became a coping mechanism for touring.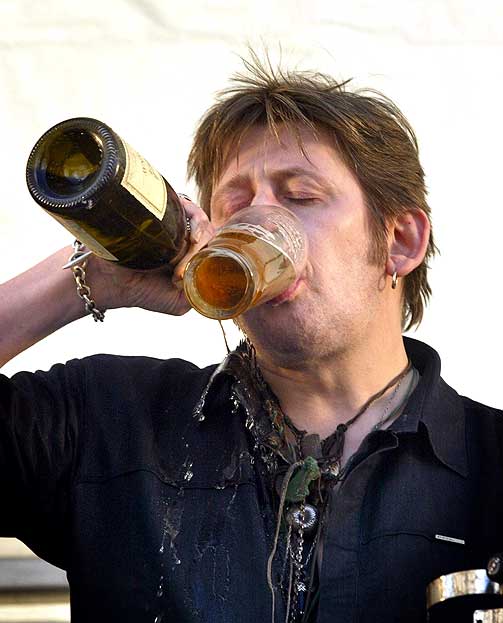 Pictured above is MacGowan drinking what appears to be a pint of Guinness with a bottle of champagne in is hand.
As they toured more it became a much bigger issue because he started relying on it to cope with the stress of touring, that and the stress of people expectations of him.  He was hailed as a genius Irish writer.  About twenty-five years ago he was actually told he only had six weeks to live, that information forced him get clean and completely changed his life.  MacGowan is alive and well today and looks back fondly on his "Pogues" days.  
Shane MacGowan is lucky to be alive, he is one of a few lucky musicians to make it out of a deep hole of drug an alcohol abuse.  This trend of substance is relatively new having only really started in the 70's.  You can see a trend of a rise in dependence in addictive substances with a rise in media coverage on celebrities.  Being a celebrity today is not like what it was in 1916, back then if you were a famous politician or an actor you may have been recognized on the street.  But now camera crews from TMZ will follow you around as soon as you step outside.
Pictured above is TMZ following rapper Rick Ross around.
If you are interested in how being a celebrity can be mentally taxing click here.
For more of:
Citations:
Simpson, Dave. "Old Habits Die Hard." The Guardian. Guardian News and Media, 25 Nov. 2004. Web. 13 Dec. 2016.
Erlewine, Stephen. "The Pogues: Biography." Allmusic.com. N.p., n.d. Web. 9 Dec. 2016.